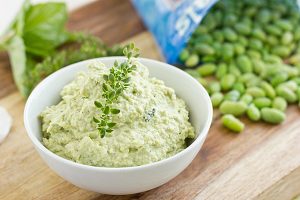 1 cup cooked edamame
1/4 cup tahini
2 tablespoons fresh lemon juice
1 garlic clove, peeled
2 tablespoons fresh herbs, chopped; optional
2 tablespoons olive oil, more if you like it creamier
salt to taste
In a food processor, combine edamame, tahini, lemon juice, garlic and herbs.
Process until smooth.
Add olive oil through feed tube and process until oil is fully incorporated.
Serves 4-6
Note: If you like your hummus more lemony, use 3 tablespoons of lemon juice.
Inspired by a recipe from Oh My Veggies