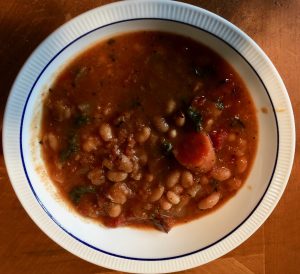 1 tablespoon olive oil
1 large garlic clove, minced
1 medium onion, chopped
2 carrots, sliced
4 cups kale, chopped (remove spiny sections) wash, but do not dry
5 cups vegetarian broth (divided- reserving 1 cup)
2 – 15 ounce cannellini beans , not drained (reserve 1 can)
28 ounce can diced tomatoes
2 teaspoons Italian herb seasoning
Salt and pepper, to taste
Parmesan cheese, shredded, optional
Heat oil in a large pot on medium heat. Add onion, garlic and carrots. Saute until soft.
Add kale and sauté for about 15 minutes more.
Add 4 cups of the broth, 1 can of beans and tomatoes. Then add herbs, salt and pepper.
Cover and simmer 20 minutes.
While it is simmering – put reserved beans and broth in blender and blend.
Stir bean mixture into soup to thicken a little bit.
Simmer 15 minutes more.
Sprinkle with cheese, if desired
Serves 4