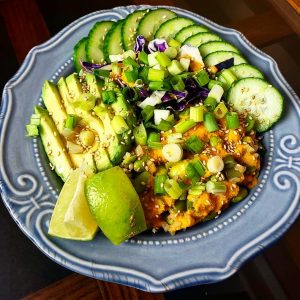 Buddha Bowl
1 1/4 cups brown rice
1 1/2 cups edamame (organic, if possible)
1 1/2 cups trimmed and chopped sugar snap peas (can substitute broccoli… whichever sounds better that day)
2 tablespoons low sodium soy sauce or coconut aminos (my FAVE)
4 cups chopped red cabbage, spinach, kale, or romaine lettuce
2 ripe avocados, sliced
1 cucumber, thinly sliced
1/2 of a small bunch of green onions, sliced
Lime Wedges
Toasted sesame oil (to drizzle on avocado)
Sesame Seeds
Sea Salt
Bring 3 quarts of water to boil.
Add brown rice, stir, cover pot.
Cook on low heat for 25 minutes.
Add sugar snap peas and edamame.
Cook for 4-5 minutes.
Drain and return to pan.
Stir in soy sauce or coconut aminos.
Divide rice mixture between 4 bowls and place all of the veggies on top (check picture for placement).
Cover with Carrot Ginger Dressing, green onions, drizzle sesame oil on avocado, and sprinkle with sesame seeds and sea salt. Add lime wedges.
Carrot Ginger Dressing
1/3 cup extra virgin olive oil
1/3 cup rice wine vinegar
2 large carrots, peeled and chopped (2/3 cup)
2 tablespoon peeled and chopped ginger
2 tablespoon lime juice
1 1/2 tablespoons honey
1 1/2 teaspoon sesame oil
1/4 teaspoon sea salt
Blend all of the ingredients until smooth.
Serves 4
Recipe created by Yelena Crawford
Living Healthy with Yelena