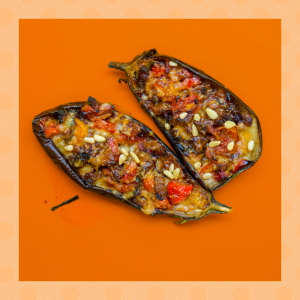 4 Japanese Eggplants, cut in half lengthwise
1/4 cup good quality olive oil, divided
3/4 teaspoon kosher salt
1/4 teaspoon freshly ground pepper
3/4 – 1 cup marinara sauce
1 cup crumbled feta cheese
1/2 cup tortilla chips, finely crushed
1/4 cup grated Parmesan cheese
1 pinch crushed red pepper flakes
Torn fresh basil leaves, garnish
Preheat oven to 400°
On a rimmed baking sheet fitted with parchment paper, place the halved eggplants cut side up.
Rub them with 2 tablespoons olive oil; season with salt and pepper.
Roast them for approximately 15 minutes, or until tender.
Remove eggplants from the oven.
Divide marinara sauce evenly over each eggplant half.
Sprinkle with feta cheese.
In a small bowl, mix together crushed tortilla chips, Parmesan cheese, red pepper flakes, and remaining 2 tablespoons olive oil.
Top eggplant halves with the crumb mixture.
Return to oven and bake for approximately 12-15 minutes, until brown and bubbly.
Garnish with basil leaves.
Serves 2-4

For Vegans, substitute the cheese for non-dairy cheese
Inspired by a recipe from Giada De Laurentiis