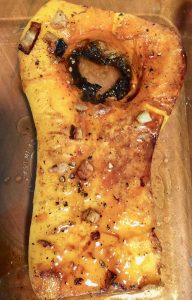 1 large butternut squash (approximately 3 lbs.)
1 Tablespoon extra-virgin olive oil
2 Tablespoons unsalted butter, cut into pieces*
Fresh sage or oregano leaves, about 6 sage leaves or oregano leaves from 2 stems (can substitute with 1 teaspoon dry herbs)
2 garlic cloves, crushed
1 Tablespoon fresh lemon juice
Salt and pepper to taste
Cut neck off from squash.
Peel squash.
Resting squash on its base, may have to slice 1/2 inch off bottom, cut squash lengthwise in half, creating two steaks.
Heat oil in large heavy skillet (cast iron is great) over medium heat.
Cook squash steaks, turning every 3 minutes, until browned on both sides and fork-tender, approximately 15 minutes.
Add butter, herbs and garlic, tilting pan to pool the butter on one side.
Use large spoon to continually baste steaks with butter.
Baste until butter is no longer bubbling, approximately 1 minute.
Remove from heat.
Stir in lemon juice; season with salt and pepper.
Serves 2
*Note: can substitute with non-dairy butter
Inspired by a recipe from Bon Appetit