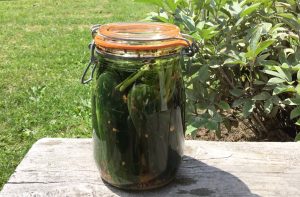 16 ounce jar with lid
small salad/pickling cucumbers, approximately 7
1 tablespoon kosher salt
2 teaspoons pickling spices
3 garlic cloves, unpeeled, optional
1 sprig fresh dill
filtered water
Scrub the cucumbers.
Pack them vertically in the jar.
Add salt, pickling spices, garlic cloves (if using).
Add water to fully cover the cucumbers.
Place dill on top of water.
Cover with tight-fitting lid (some liquid may escape during fermenting).
Place outside on a table, if possible, or inside near a sunny window for 1-2 days, depending on the air temperature (speeds up fermentation process).
Place jar in the refrigerator.
New dills after 3 days, half sours in about a week and a half, and full sours after three weeks.
Note: Deli pickles at a fraction of the price!