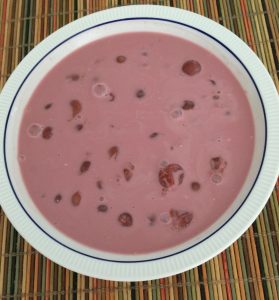 2 (15 oz.) cans of pitted sour cherries, with their juice
1 cup tart cherry juice
1⁄2 tsp. kosher salt
1 stick cinnamon
1 slice (1⁄2″-thick) lemon
1 cup vegan sour cream
Add cherries, with their juice, and tart cherry juice to a 4-quart saucepan.
Add salt, cinnamon stick, and lemon.
Bring to a boil, reduce heat to medium-low, and simmer until cherries are soft, about 5 minutes.
In a small bowl, whisk together vegan sour cream and 1⁄4 cup of hot cherry liquid from pan.
Remove pan from heat; stir in sour cream mixture.
Chill the soup.
Before serving, remove lemon slice and cinnamon stick.
Serves 4 – 6