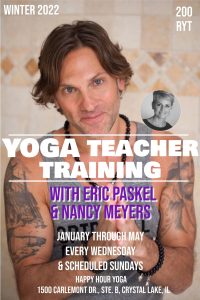 Eric will be at Happy Hour Yoga on:
Thursday, January 6th – 5:00 pm to 9:30 pm
Friday, January 7th – 5:00 pm to 9:00 pm
Saturday, January 8th – 8:00 am to 2:00 pm
So this is happening!! Who's on board!! This is absolutely life changing and it's like NO OTHER training out there. Learn to teach yoga, learn the background and philosophy of yoga, and learn how to APPLY IT TO YOUR LIFE!! We are not just throwing information at you… We are showing you how to change your life with the information you learn!
Pricing: The cost of Yoga Teacher Training is $3750 per person. Payment plans with auto pay are available and can be discussed. At least $1500 is required prior to the start of training. All payments are non-refundable. We have a minimum number of people we need in order to run the program, and a maximum number as well. Don't wait to decide and miss this opportunity.
Reach Out For More Information