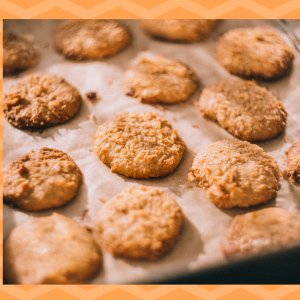 1/2 cup non-dairy butter, softened
1/2 cup sugar (plus more for topping)
1/4 cup brown sugar
1 tsp pure vanilla extract
1/4 cup pumpkin puree
1 1/2  cups unbleached all-purpose flour
1/2 Tablespoon cornstarch or potato starch
1 teaspoon baking powder
1/2 teaspoon baking soda
1/4 teaspoon salt
1/2 teaspoon ground cloves
1/4 teaspoon ground nutmeg, grate fresh, if available
3/4 teaspoon ground cinnamon
1 Tablespoon unsweetened almond milk (or other non-dairy milk)
Preheat oven to 350°
Add softened butter to food processor; blend until smooth.
Add sugar, brown sugar and vanilla and blend until fully incorporated.
Add pumpkin and mix.
Sift dry ingredients into a mixing bowl.
Add to pumpkin mixture.
Mix until incorporated, being careful not to over mix.
Add almond milk and mix until a soft dough is formed.
Freeze dough for 15 minutes, or refrigerate for 30 minutes (or chill overnight).
Scoop out heaping 1 Tbsp amounts of dough and roll into balls.
Place on a baking sheet, fitted with parchment paper, 2 inches apart to allow for spreading.
Dip a glass into sugar and then gently smash the cookie ball down into a disc.
Bake on the center rack for 10-12 minutes or until slightly golden brown.
Let rest on pan for a few minutes.
Then transfer to a cooling rack to cool completely.
Makes 22 cookies
Inspired by the Minimalist Baker