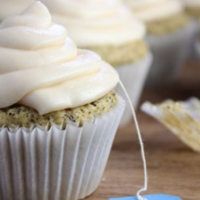 Dry ingredients
4 earl grey teabags (or 4 teaspoons loose earl grey tea)
1 1/4 cups all-purpose flour
3/4 cup white sugar
1 teaspoon baking soda
1/2 teaspoon salt
Wet ingredients
2/3 cup non-dairy milk (such as soy or almond)
1/3 cup light oil (such as canola or vegetable)
2 tablespoons apple cider vinegar
1 teaspoon vanilla extract
Frosting
1/4 cup vegetable shortening
1/4 cup vegan butter
1 1/2 cups powdered sugar
1 teaspoon vanilla extract
1 earl grey teabag (or 1 teaspoons loose earl grey tea)
Boiling water
Preheat oven to 350F.
Line a cupcake pan with 12 cupcake liners, or lightly grease the pan and set aside.
For the cupcakes
Cut 4 teabags open and empty the contents into a small bowl.
If the tea is a fine grind, you are good to go
If the tea you are using has big leaves or is coarser, pulse it in a food processor, blender, or grind in mortar and pestle until it's a finer grind, but not powder
Add the tea to a large mixing bowl along with all of the dry ingredients: the flour, sugar, baking soda, and salt and mix together
In a medium bowl, mix together all the wet ingredients: the non-dairy milk, canola oil, apple cider vinegar and vanilla
Pour the wet into dry, and using a spoon mix until the ingredients are just combined
Don't overmix
Divide the batter evenly among the 12 cupcake liners and bake in the oven for 18-20 minutes until the cakes have risen and a toothpick inserted in the center comes out clean.
For the frosting
Let cupcakes cool completely before frosting.
Put the teabag into a small mug and pour in the boiling water
You will only need about 2 tablespoons of the brewed tea, but make a bit extra just in case
Let steep until cool, do not remove the teabag! You want the tea to be very strong
In a mixer, blend the vegetable shortening, vegan butter, powdered sugar and vanilla extract along with 1 tablespoon of the cold extra strong brewed tea
Add 1 more tablespoon of the brewed tea, if needed to reach desired consistency
Frost cupcakes as desired.
Serves 12
Recipe from It Doesn't Taste Like Chicken website