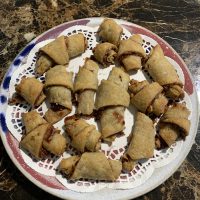 1 cup non-hydrogenated, nondairy butter, cold
8 ounce package nondairy cream cheese
2 cups unbleached all-purpose flour
1/4 teaspoon salt
1/3 cup nondairy sour cream
1/2 cup granulated sugar
1 tablespoon ground cinnamon
1 cup finely ground walnuts or pecans
1 cup fruit jam or preserves (apricot, strawberry, or raspberry)
Preheat oven to 350°F.
Cut the butter and cream cheese into small pieces.
In the food processor, pulse together the flour, salt, butter,
cream cheese and sour cream until the dough comes together.
Shape the mixture into 4 equal round circles. Wrap each circle
in plastic wrap and chill for at least 2 hours or up to 2 days.
Line 2 cookie sheets with parchment paper. (You may use
ungreased cookie sheets, but the jam mixture tends to ooze onto
the cookie sheet making it difficult to clean.)
In a bowl, combine the sugar, cinnamon, and walnuts or pecans. Set aside.
Lightly flour a work surface, and roll each circle into a 9 inch round, keeping the other circles chilled until ready to use.
Spread each circle of dough with a light layer of the jam. Sprinkle 1/4 of the sugar/nut filling and press lightly into the jam.
With a pizza cutter or a sharp knife, cut each round into 12 wedges or triangles.
Roll the wedges from the wide end to the narrow end, ending up with the point on the outside of the cookie.
Place on the prepared baking sheets with the point side down.
Bake on the center rack of the oven for 30-35 minutes, or until lightly golden.

Cool on wire racks
Yield: 3 dozen cookies
Note: To make it gluten free, swap out the unbleached all-purpose flour for Cup4Cup Wholesome Gluten Free Flour. There maybe other gluten free flour brands that work as well. But I used this brand.