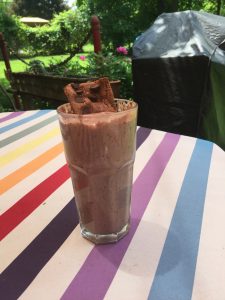 1/2 cup almond milk, or more
4 ounces non-dairy yogurt
1 tablespoon almond butter
1/4 cup fresh strawberries
1/4 cup fresh blueberries
1/2 ripe avocado, sliced
1 brownie (your favorite), divided
Place all the ingredients in a blender.
Blend until smooth.
Add more milk, if too thick.
Garnish with other brownie half.
Serves 1
Note: Make your own Chocolate Brownies