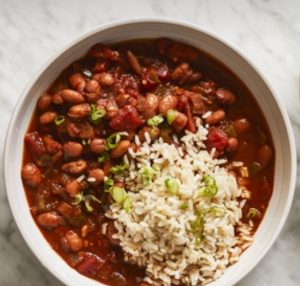 1 yellow onion, chopped
1 large pepper, yellow, red, orange or green, chopped
1 1/2 Tablespoons chili powder
1/2 tablespoon dried oregano
1 teaspoon ground cumin
2 cloves garlic, minced
15 ounce can, pinto beans, rinsed and drained
15 ounce can diced tomatoes, undrained
2 cups vegetable stock
Sea salt, to taste
Freshly ground pepper, to taste
Cooked quinoa, rice, or pasta (optional)
In a Dutch oven, cook onions and peppers over medium heat, until softened 5 minutes, or until softened.
Add water, 1 to 2 Tablespoons at a time, as needed to prevent sticking.
Stir in chili powder through garlic.
Cook 1 minute.
Add beans through vegetable stock.
Bring just to boiling over medium-high heat.
Reduce heat.
Simmer, partially covered, 20 minutes or until mixture is slightly thickened.
Season with salt and black pepper, if desired.
Can be served as a soup.
Or served over cooked quinoa, rice or pasta for an extra-hearty meal.
Makes 7 cups
Inspired by a recipe from Forks Over Knives by Chef Del Sroufe