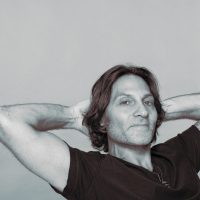 Eric Paskel is known for his rock 'n roll personality in the normally quiet world of yoga. He is an international yoga teacher, marriage-family and child counselor, and motivational speaker. He has been a teacher of teachers since 1999, presenting at Yoga Journal Conferences, Kripalu Center, Bhakti Yoga Fest, Wanderlust, Telluride Yoga Festival and the Southeast Yoga Festival. Eric has also taken his brand of yoga around the globe, conducting teacher trainings, retreats and workshops in Russia, Mexico, Costa Rica, India and Belize.
Corporations, like Chrysler and Pilot Flying J, to name just a few, have enlisted Eric's services as a motivational speaker. For over 20 years, Eric, through his private practice, has been helping clients solve their relationship and addiction problems.
Eric is a featured teacher on both YogaDownload.com and gaia.com.  Yoga Journal's 14-day program is named after his signature class, Yoga Rocks. He has contributed articles for Mindbodygreen.com, elephantjournal.com and mantramag.com.  Articles on Eric can be found in magazines such as People, Shape, Fitness, Mantra, LAYoga, First for Women, In Touch, Today's Yoga and Origin.
Already known as a trendsetter in the yoga world, Eric has added record breaker to his list of accomplishments. Using Ford Field, home of the Detroit Lions as his backdrop, he hosted the event, Yoga Rocks Ford Field, breaking the record for the largest indoor yoga class. He also led the longest yoga chain in Estes Park, CO at a Yoga Journal conference in 2012.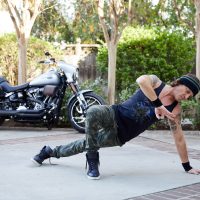 Eric Paskel founded, owned and operated a family of ten yoga studios, including franchising three studios, before he sold the company in 2015.
Eric, now has added "author" to his long list of accomplishments. He is the author and founder of Emotional Empowerment Movement; The Unf**ked Code: Transform Your Relationships from Fighting to Uniting; The Emotional Survival Kit: Finding Peace in Chaos, and The Problem is You.  
Learn more at ericpaskelyoga.com or emotionalempowerment.com
Connect with Eric on Facebook
See Eric on Instagram
Find Eric on TikTok
Check out Eric on YouTube
EEM (Emotional Empowerment Movement) is also on – YouTube